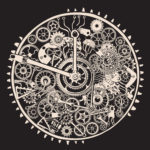 The art of watchmaking is based on quality, precision and meticulous attention to detail. And we know it: since 1985 we have been specializing in the production of clock hands, small parts for the electronic market and metal parts cutting of all kinds. In this business, passion is combined with accuracy and meticulousness, essential qualities to be part of our team.

An example of the obsessive attention to detail that is necessary to use in this field is given by the operation of mechanical watches. They were the first watches to be put on the market, the ones which do not require batteries for their operation: they are loaded manually, usually once a day. Despite this impractical feature, they are still purchased by aesthetics and art lovers of watchmaking. A timeless market.
In mechanical watches, in particular, the gears move thanks to the winding of the mainspring. When the spring is fully wound, the watch can maintain the exact time for about 40 hours – some models even more. But inside the watch the operation seems really perfect: more than a dozen screws, wheels, springs, plates, barbells – and also jewels – which cooperate in perfect sync to ensure the accuracy of timing.
All of this is possible thanks to the top quality processing of the elements that constitute the heart of the watch. We represent the excellence of the artisan and manufacturing tradition, directly from the capital of Emilia-Romagna to dilate throughout Europe. We take care of every millimeter of our products, because we know that details make the difference in this field, even in the design processes.
Contact us, we develop customized products for all needs!