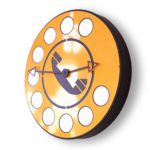 Looking for gadgets – for you or for your company? Discover DRL latest innovations: our watches are unique pieces, fully customizable and with guaranteed success!

The wall clocks of our production are made in aluminum and equipped with a quartz movement. They have a diameter of 380 mm and a thickness of 45 mm.
The clock is constructed entirely in our company, using cutting and engraving system carried out with CNC machines.
The CNC machines (Computer Numerical Control) are used in almost every field of mechanics. They represent the evolution of NC machines, because they allow the direct numerical control from an external computer.
The chromatic effects are obtained by inserts and overlays of aluminum plates, without using any screen printing. This process allows the creation of unique, customized items and small series with very low installation costs, ideal for branding image projects for your company or for sampling of design projects made entirely ad hoc.
For more information about our products and services, please contact us: we're at your disposal to realize together all the gadgets you want!