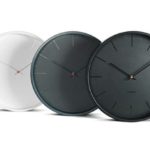 Did you know that the production of a clock consists of several stages?
The clocks hands are a component, which is often outsourced to companies like ours. This handcrafted work requires years of experience in order to guarantee the best results in terms of product quality and aesthetics.

There are various types of hands, each one with its own colour, dimension and a particular manufacturing.
Some of them can be produced on sampling for new projects or new design ideas, we are careful about the present but always looking towards the future in order to make our product unique and valuable.
DRL is the leader in this market, at both national and international level for more than thirty years. The clock hands that we produce are made in our seat in Bologna, where we have at our disposal a fine equipment but, above all, a qualified staff and a close-knit team to guarantee our customers a product that is able to transmit the enthusiasm and the commitment we employ in our work.